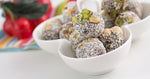 What if you could mix deliciously nutritious ingredients in a bite size ball for a quick healthy snack? Introducing Marguerite's Matcha Pistachio Energy Balls!
Packed with antioxidants and rich in fiber and other vitamins, matcha is known to boost metabolism, detoxify the body as well as calm and enhance the mood.
Ingredients (makes 12 to 15 balls):
130 gr mejdool dates, pitted (approx. 6-7)
20 gr dried figs, chopped (approx. 4)
70 gr shelled pistachios
20 gr blanched almonds
1 1/2 tbsp matcha powder
1/2 tbsp maca powder
50 gr or 1/4 cup desiccated coconut
1 tsp vanilla extract
juice of 1/2 lime
1 1/2 tbsp coconut oil
Instructions:
Place pistachios and almonds in the food processor and pulse until finely chopped.
Add in the pitted dates, chopped dried figs, lime juice, vanilla extract, matcha and maca powder. Process until smooth and slowly add in the coconut oil.
Once the mixture clumps to one side of the food processor, remove it. Add in more dates or oil if the mixture is too dry due to the powder.
Place a tiny bit of coconut oil in your hands and roll 12-15 balls.
Dust off with coconut flakes and allow to harden in the fridge for a few hours before eating. Keep stored in an airtight container in the fridge and remove a few minutes before snacking.
Author: Marguerite Elias, Chef from www.thirdculturechef.com.