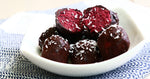 A childhood favourite recreated in a healthy way with a fashionable twist! This recipe combination of beetroot, coconut and chocolate is raw, vegan, gluten-free and lightly sweetened.
INGREDIENTS
Filling
1 tbsp beetroot powder
1 ½ cups unsweetened coconut, shreds or flakes
¼ cup coconut oil
1 tbsp pure maple syrup
¼ tsp vanilla
Chocolate coating
1/2 cup cacao powder
1/4 cup coconut oil
3 tbsp maple syrup
1/4 tsp vanilla
METHOD
To make the filling:
Process the coconut products and syrup or honey until a homogenous and sticky mixture is obtained. Add the beet powder and process again.
Turn into balls and freeze for 15 minutes.
To make the chocolate coating
Place everything in a small bowl and mix everything until well incorporated.
If it is not perfectly smooth then continue to adjust your proportions until just right.
Last step
Bathe each coconut ball in the chocolate.
Place in the fridge or freezer for 30 minutes to an hour to set before serving.
Author: Tatiana from Health & Yum.