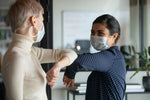 The last year has been a challenging one for everybody. With the coronavirus pandemic sweeping the world, a lot of things have changed and there have been more stresses than ever on our mental health. Multiple lockdowns, not being able to see friends and family, potential job troubles – all of these challenges and more have hit us hard.
If you find that you have been struggling during this difficult time, you are not alone – and help is out there. But there are some things you can do to help you cope with the ongoing difficulties that you might be facing in your everyday life.
Here, we will give you some strategies for coping emotionally with the pandemic. Read on to find out more.
1.Accept your feelings
You cannot fight your emotions during this time. If you find yourself feeling sad, anxious, lonely, angry, or numb, this is to be expected. Or if you notice changes in your eating or sleeping patterns, it is important to realise that this is because of the impossible situation that you have found yourself in. Even if you do not usually struggle with mental health problems, be aware that you might, and give yourself grace to work through these feelings at your own pace.
2.Make connections
While you may be feeling physically isolated from your friends, family, and colleagues, it is important to try and make connections with them when you can. Reach out and ask to meet up on a video call or phone call. Even though you are physically far away from those you love, it is still vital to talk. Tell them how you feel – they might be feeling the same!
3. Switch off
In these modern times, it can feel impossible to switch off from the 24-hour news cycle. However, you need to take some time away from the news in order to get a sense of calm. Don't check the news compulsively – distract yourself by reading a book or going for a walk. The news will still be there. You are allowed to not feel guilty for wanting to opt-out for a while.
4. Engage with fun activities
It can be hard to feel like you want to do anything when you're stressed and struggling, but find some things you love to do. Whatever it means for you, try to do something fun and relaxing every day. That might be watching a comfort movie, cooking a healthy meal from scratch, or dancing in your living room. Head outside for fresh air when you can manage it and allow yourself to enjoy whatever you can.
And if sometimes you need a day in bed – that's okay, too.
5. Look forward to travel
Let's face it, we could all do with a change of scene. We've been kept in one place for a long time now, and this can take an emotional toll. Although there's still a lot of uncertainty, it looks like it won't be long until we'll be able to travel again and expand our horizons. Soon, your main concern will be with picking a destination! Whether you're travelling to sample the world's vegan cuisine, or looking to tour the best art galleries, there's a lot to look forward to in the future.
Remember, if you are having a hard time right now, there are so many other people feeling the same way. Reach out and don't try and handle everything alone – we can still connect, even at a distance.
Author: Ellie Hayes