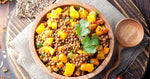 To add a little bit of flavour to your Sunday, we've teamed up with the talented Chef and Blogger Lidija Abughazaleh who shares her delicious lentil and pumpkin salad recipe.
Lidija says "As a self-taught cook, I want to share beautiful recipes that are close to my heart. I love how food has the power to evoke memories, transcend the passage of time, and take you on a journey across the world. I love when several taste elements are incorporated into a single dish, particularly sweet and savory in this case".
My lentil and pumpkin salad is packed with deliciousness and is a great example of how sweet and sour complement each other in savoury cooking. I use different varieties of pumpkins or winter squash depending on what's available (do not use the typical Jack O Lantern, it is very stringy).  Cinderella pumpkins or Butternut Squash will give you consistently good results, and make sure you get the best maple syrup you can find for the vinaigrette. Served slightly warm or at room temperature, this salad is great eaten on its own, and also works beautifully as an accompaniment to grilled chicken, fish or meat.
Ingredients:
One cup of brown or French lentils, picked over to remove any debris
3 cups of water
600 grams of butternut squash or pumpkin (seeds removed, peeled and cut cross-wise into ¾ inch slices)
1 tablespoon honey
1 tablespoon olive oil
Salt and pepper
1 small red onion (thinly sliced or finely chopped)
2 spring onions (white and green parts, sliced)
2 tablespoons fresh parsley (finely chopped)
 Vinaigrette:
2 tablespoons olive oil
1/4 cup maple syrup
1/2 lemon juice
Instructions:
Preheat your oven to 200 degrees C (400 degrees F)
In a pot, large enough to allow the lentils to expand, bring 3 cups of water to a boil. Add the lentils, cover, reduce heat to low, and let simmer for 20-30 minutes until tender. Let cool slightly.
Toss pumpkin slices with honey, olive oil, salt, and pepper. Roast in the oven for 15 minutes, or until they start to brown. Flip over and roast until cooked through and slightly brown on the exterior, 10-15 more minutes. Remove from the oven. Cut into cubes when cool enough to handle.
To make the vinaigrette, whisk together olive oil and maple syrup. Stir in the lemon juice.
Toss the lentils with the vinaigrette, parsley, red onion, and spring onions. Season with salt and pepper. Give it a taste, add more seasoning if necessary. Add the cubed pumpkin and toss.
Savour the flavours and enjoy every bite!
Author: Lidija Abughazaleh, Chef & Blogger from www.lidijaskitchen.com.