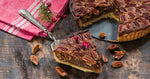 It is the most wonderful time of the year! Here's a delicious vegan pecan pie recipe perfect for the holiday season and those endless dinner celebrations :)
Serving Size: 6.
Preparation time: 30 mins.
Cooking time: 45 mins.
Ingredients:
Pastry
1 cup of oats

1/2 cup of almond powder

2 tbsp of maple syrup

3 tbsp of coconut oil, melted
Filling
1 cup of date paste

1/2 cup of pumpkin puree

1/2 cup of water

1/2 tsp of cinnamon

1/4 tsp of orange blossom
Topping
1+1/2 cup of pecan

1/6 cup of maple syrup

1 tsp of cinnamon
Method:
Preheat the oven to 350°F/175°C.

Peel and chop a medium slice of pumpkin into small pieces and place in a saucepan over medium heat with the water. Stew until the pumpkin starts to break down. This will take around 15 minutes.

Meanwhile let's do the topping; in a medium bowl mix together pecan, maple syrup and cinnamon. Spread evenly on a baking tray covered with parchment paper. Bake for 10min.

Remove the pumpkin compote from the heat, let it cool down and blend it in a blender until smooth sauce texture.

Let's now do the pastry. Grease a tart tin with coconut oil, (22cm diameter tin) and dress with parchment paper.

In a food processor, blend all the ingredients for the base until a dough forms. Place the pastry into the dish and press around the edges to ensure it is evenly covered. Bake in the oven for 15 minutes until starting to turn golden.

Add in a food processor the pumpkin sauce (½ cup), date paste, cinnamon (½ tsp) and orange blossom. Mix for 2 minutes.

Take the pastry out of the oven, spread the filling evenly and arrange the pecan nuts in concentric circles.

Finally, return the tart to the oven for another 10 minutes.
Et voilà! Served warm with coconut yogurt or dairy free ice cream.
Author: Justine, founder of Encas.