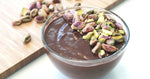 The weekend calls for a healthy treat! Introducing the delicious Vegan Mango & Chocolate Mousse topped with pistachio. It's served cold, extremely refreshing and fuels you with energy throughout the day. Every bite is happiness, especially for people who have a sweet tooth and appreciate rich and creamy chocolate mousse. The best thing about it is that it's sweetened with natural ingredients like fruits and almond butter with no additional sugar.
Ingredients
1 medium mango ripe

1 banana ripe

1/2 cup cocoa powder, unsweetened

1/4 cup almond milk

1/2 cup almond butter (peanut butter can also be used)

1 tbsp maple Syrup (or honey for the non vegans)

Raw almonds crushed (optional)

Pistachios (for topping) or can be substituted with any other kind of nuts
Method
Peel the fruits and add all ingredients together - except the crushed raw almonds (if you decide to add it) and pistachio.

Blend until creamy then add the crushed almonds.

Divide into small jars or cups, cover with plastic wrap and chill for a few hours, or overnight.

Before serving, add the topping (I added pistachio but walnuts or almonds are also great).
Enjoy it cold and fresh!
Author: Eliane from Eats and Treats DXB