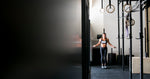 When it comes to working out, I always try to make sure I've eaten the right food to get the best out of my own sessions and to be able to keep my energy levels up throughout the remainder of my day. I always look at my body like a car - in order to keep it going I must fuel it right. You only have one, so knowing how to treat it right will help you achieve the goals you want alongside a good training routine.
As a trainer, I love to keep my body guessing and setting benchmarks, and to do this mixing up my training routine is important. My training incorporates movements seen in the following workouts on the Nike+ Training App.
Strength – Weight work
Endurance – Light weight/body weight and cardio
Mobility – Stretching and foam rolling
Strength recommendations:
Long, Steady Strength (47mins)
Empty the Tank (47mins)
The Up Shift (45mins)
The Speed Centre (45mins)
The Row Down (45mins)
Endurance recommendations
Start Training (46mins)
Controlled Blast (45mins)
The Power Start (30mins)
Non-Stop Speed (30mins)
Explosive Agility (30mins)
Mobility recommendations
Reach and recharge (28mins)
Deep Restorative Yoga (35mins)
Open Rotation (15mins)
A key tip to my training is making sure I've had enough rest during my week. It's easy to keep training but you want to make sure you're moving well to get the most out of your training and also to avoid any risk of injury.
Your training and food intake go hand in hand, if you've trained well and eaten well, it makes all the difference!
Author: Nike Trainer Jade Palmer.