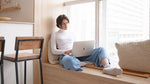 The pandemic caused a sudden collision between work and home lives of many employees when companies jumped to a work-from-home setup to comply with lockdown measures. Many were forced to make major adjustments to this new normal, with uncertainty and stress lingering until a true return to normal is possible.
And if you're looking for advice on staying sane while working from home, here are some self-care tips on how to work remotely without compromising your health and wellbeing.

Find a Healthy Routine
When engaged in repetitive activities like working from home and staying in the same place for seemingly endless days, you might end up with Groundhog Day Syndrome. Named after the movie about a weatherman who keeps reliving the same day, a health feature on Today simply describes it as feeling like a rodent on a wheel, repeating the same routines. However, routines are necessary to be able to define boundaries.
Being too rigid in one, though, can make life monotonous and dull. So, try making small and subtle changes to your daily routine — prepare a new smoothie or dessert during your lunch break; or take your dog for a quick run. If you add different novelties into your daily routine, you won't feel so stuck.
Define Boundaries
With long commutes being replaced by short walks from your bedroom to wherever you want to work, it can be difficult to maintain clear distinctions between what's professional and personal.
So it's important to define work boundaries in both time and space. James Gonzales points out some key ways you can do this: from setting definite work hours to draw lines between time for yourself and your tasks, to designating a set workspace inside your home. Sit down with your family and housemates also to lay out some ground rules — something as simple as knocking before entering, or keeping out of your work area, can help you maintain focus while working.
Adjust Productivity Habits
When it comes to measuring productivity, don't pressure yourself to keep the same habits you were practicing in the office. There'll be many changes at home, so just find out what works best for you in staying productive.
You may have to engage in more video conference meetings at home, so take advantage of those and don't be afraid to ask questions for better clarification on things that may be more vague when you're remotely working.
Engage in Self-Care
When working from home, you tend to juggle more responsibilities simultaneously, making you prone to feeling overwhelmed and exhausted. That's why it's important to exercise, relax, and eat right. It'll be more convenient, though, if your healthy meals are prepared in advance, instead of grabbing anything that's fast and easy, which tends to be unhealthy.
A good tip would be starting on a healthy meal program like our Eat Clean Meal Plans. It'll not only save you time and energy, but also keep you healthy while working from home.
Practice Self-Compassion
When you've failed at something or made mistakes before, you can be your own worst critic. Instead of beating yourself up with excessively high standards, prioritize kindness and compassion.
Don't be harsh on yourself and instead, try telling yourself things you'd want to hear from a friend. Self-compassion can be learned with constant practice, and has significant positive effects on your wellbeing.
Create Social Opportunities
Virtual social events such as online game nights and group chats are opportunities for catching up with friends and family. Brainstorm some creative ways to have social interaction while maintaining physical distancing. 
Good Housekeeping features fun games you can play on Zoom — from classics like Bingo to a crazy Cards Against Humanity game, there are many ways to play online.

Disconnect and Recharge
While traditional vacations aren't an option for now, disconnecting and recharging can be helpful if you can take time off, even just at home. Detach from being on the clock by turning off work devices and notifications at the end of the day. This allows you to rebuild your mental resources and avoid burning out.

Author: Jillian Boherk