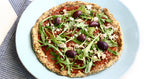 Give your classic comfort food a healthy makeover with this nutritious plant-based healthy pizza recipe! Say NO to boring bland meals! This recipe is vegan, gluten free and low in calories.
1. CRUST
Ingredients
Half a head of cauliflower

½ cup chickpea flour

2 tbsp flax meal

6 tbsp water

1 tbsp nutritional yeast

1 tbsp olive oil

¼ tsp sea salt
Method
Chop the cauliflower into small florets and steam till you can just pierce with a fork, then let cool.

Add cauliflower to a food processor till fine, then transfer to a nut milk bag or place in fine cheesecloth, and gently press out all of the excess water.

Meanwhile, add the 6 tablespoons water to the flax meal in a small bowl and let stand for 5 minutes (this is your egg replacer).

In a large bowl, combine all ingredients and use your hands to work them together into a dough.

Let stand for 15 minutes to allow flax and chickpea flour to absorb any remaining water.

Line a pizza tray with baking paper, and press dough evenly over the surface.

Bake for 20 minutes.
2. MARINARA DRESSING
Ingredients
2 medium-sized tomatoes

1/4 cup chopped red pepper

1 tbsp nutritional yeast

1 date

1/2 cup sundried tomatoes (preferably soaked in olive oil)

2 tbsp extra virgin olive oil

Pinch of sea salt, cayenne pepper and black pepper
Method
Simply blend all ingredients together.
3. VEGAN RICOTTA CHEESE
Ingredients
1 cup almonds (soaked at least 1 hour)

2 cups water

1.5 tsp sea salt

1 tsp black pepper

Juice 1/2 lemon
Method
Blend almonds and water

Strain through nut milk bag. Save the milk for other uses and keep the almond pulp in a bowl.

Add salt, lemon juice and black pepper to almond pulp and combine well.
4. ASSEMBLING THE PIZZA
Top the cauliflower pizza crust with marinara and bake for 5 minutes.

Add ruccola leaves, olives and ricotta.
Dig in and enjoy the healthy pizza!
Author: Tatiana Abou Assi from Health & Yum