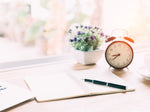 We live in a time where hugs are forbidden, stepping outside the house without a permit is illegal, businesses are suffering, people are dangerously ill. 
We cannot change this fact. But what we can change, is our mind and body state. Are you just trying to cope with the restrictions, or are you trying to use every minute in lockdown to strive? You know the saying, when you're given lemons, make lemonade. How about reaching for lemons in your kitchen and actually making lemonade from scratch? How about doing it as an activity with a loved one? 
There are many ways to keep busy when in lockdown at home.
1. For one, spend more time with the ones you love; play games or dine together if you're lucky enough to live with family members, or schedule virtual calls if you're far away. The UAE has unlocked several video calling apps such as Skype, Google Hangouts, Zoom, Totok etc. 
2. Declutter; this is pure magic! There is something magical about clearing up the space around you, getting rid of things you don't need, or simply things that don't bring you joy anymore. Cupboard by cupboard, drawer by drawer, you will feel a weight lifted off your chest with every toss. Check out the amazing Marie Kondo for tips.
3. Get moving! Lounging from your sofa to your bed all day won't do you any good. Set up a daily alarm to take care of your body, to get your heart rate up. You won't regret it! It'll give you an amazing boost to continue the rest of the day on a high note. Nowadays there are no excuses with the abundant free youtube workout videos. Simply choose a no-equipment workout and get moving :)
4. Get creative; if you already have a crafty hobby, use this precious time to do it! If you don't have any, now is the perfect time to explore and uncover hidden talents. Try coloring, drawing, doodling, knitting etc.
5. Learn a new language. Again, YouTube is a best friend when in lockdown. Search for the language you want to learn, and get started!
6. Relax and replenish. Netflixing, napping, day dreaming are essential for the soul. Do it, with no guilt. You deserve the rest. This is temporary, so enjoy it to the maximum. 
Stay home, stay safe, and most importantly stay healthy!
To have healthy meals delivered to your doorstep, check out our meal plan options here and use the promo code STAYHEALTHY at checkout for a 15% discount, only valid till April 30.