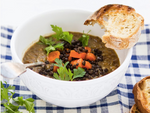 The weather this week calls for a hearty soup! 
There are several different ways of making a good lentil soup, but this one is our favourite. Taken from one of our favourite chefs in town who happens to be Harper's Bazaar's food editor, Dalia.
To make this soup vegan, simply remove the yoghurt topping. 
Ingredients:
- 2 tbsp olive oil
- 2 carrots, peeled and chopped
- 1 large onion, finely chopped
- 5 garlic cloves, finely minced
- 2 tsp cumin
- 1 1/2 cups lentils
- 6 cups vegetable stock
- juice of 1 lemon
- 1 cup yoghurt
- salt & pepper to taste
- fresh parsley for garnish
Method:
1. Heat the olive oil in a large stockpot over medium heat. Add the carrots, onions and all but 1/2 tsp of the garlic, and cook, stirring occasionally until softened for approximately 10 minutes. Add the cumin and stir again until fragrant for another minute or so. Add the lentils and vegetable stock and bring to a boil. Reduce the heat to low, cover and let cook until lentils are softened for approximately 25-30 minutes.
2. With a hand blender, puree the soup until smooth, add the lemon juice, season to taste and simmer for a few more minutes.
3. Whist the yoghurt with garlic, salt and pepper and finish the soup with a generous swirl. Yum!
Author: Dalia from http://www.daliaskitchen.com/.