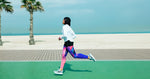 Ramadan is an important time to self-reflect and discipline yourself. Considering fasting includes long hours of the day without any drinks or food to fuel your body, most people tend to avoid working out due to their lack of energy. However, it is important to stay active during the Holy Month in order not to break your routine and to make up for all those nocturnal meals.
Nike Trainer, Manal Rostom shares her personal story and top tips on how to train and stay healthy during Ramadan.
I will never forget this one Ramadan back in 1999/ 2000 when I let myself go; no counting calories and binge eating at Iftar – I ended up gaining 7 kilos in one month. Since then, I have been very cautious with what I eat and how much I exercise. You have to be very mindful about what goes in to your body during Ramadan, and find ways to burn those calories within a given time frame.
Remember that Ramadan is the perfect time to train the mind and body to refrain from bad habits. If you are not cautious by overeating and being inactive, the harm done to your body will be extremely difficult to reverse. Without doubt, your workout performance when fasting will be impacted, but this will positively affect your performance once you are back to your old routine after Ramadan. If I can do it so can you, it's mind over matter! Here are some training tips I recommend following during Ramadan:
Pre-Iftar training: 30-minute run or 45-minute spinning class just before Iftar, provided that you go straight home to break your fast and hydrate your body.

Post-Iftar training: 30/45-minute circuit, endurance, strength or mobility training session just after Iftar if you broke your fast lightly, or 2 hours after Iftar to make sure the food you consumed was well digested. The Nike Training Club App is an amazing personal guide that allows you to work out from anywhere with no equipment needed. You can download over 100+ workouts directly from the NTC app and mix and match the ones you prefer! My personal favourites are:
For endurance:
Start Up Benchmark (6-minute session)

Activation Station (15-minute session)

Engine Fire (15-minute intermediate session)
For Mobility 
Ellie Goulding's Run Ready Yoga (15-minute session)
For Strength 
Slow it down (15-minute session)

Strength Remix (15-minute session)
Author: Manal Rostom.