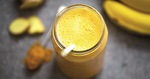 In need of an energy and immune booster? This 5-minute turmeric banana orange smoothie recipe saves the day! Turmeric is a spice that has been long known for its antioxidant and anti-inflammatory properties among other incredible health benefits, and Marguerite blends it perfectly with some other nutrient-dense ingredients.
Ingredients (serves 1):
5 frozen bananas
150 ml unsweetened almond milk
200 ml fresh orange juice - about 1 orange
1/2 tsp turmeric powder (use less if using fresh turmeric root)
1/4 tsp cinnamon
Instructions:
Ahead of time: keep peeled, chopped bananas in a zip lock bag in the freezer.
Squeeze 1 orange for the juice.
Mix all ingredients in the blender until smooth and enjoy!
Author: Marguerite Elias, Chef from www.thirdculturechef.com.