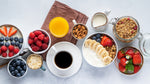 Breakfast is commonly known as 'the most important meal of the day', and we are going to look into the reasons.
When you wake up in the morning, you may have not eaten for up to 12 consecutive hours! Breakfast, as the name suggests, breaks the overnight fasting period. When breaking the fast, your body gets the glucose it needs to boost energy levels, while providing essential nutrients to keep your metabolism up for the day. Eating breakfast also prevents fluctuations in your blood glucose levels, which helps control your appetite throughout the day.
Here are some of our favorite Eat Clean breakfasts!
APPLE CINNAMON OATS
SAVORY OATMEAL & EGG
APPLE CIDER DONUTS
BREAKFAST EGG BURRITO
SQUASH PANCAKES & MUSHROOM
HEALTHY BREAKFAST PANCAKES